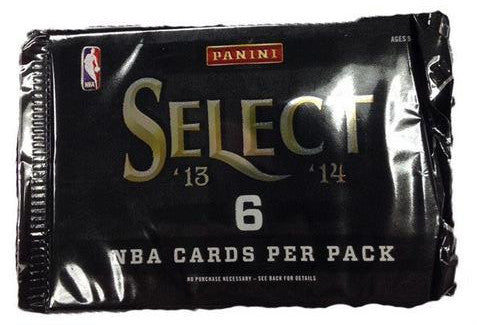 Pick a Pack - 2013-14 Select Basketball Hobby Pack
Pick a Pack - 2013-14 Select Basketball Hobby Pack
Each Box contains Two Autographs, Two Memorabilia Cards, and Six Prizm Cards!
The return of last year's widely popular Select brand features Prizm Technology!
Look for Gold Prizms sequentially numbered to 10! Find new autograph inserts in Signatures, Hall Selections Signatures and Franchise Signatures!
Look for the debut of Purple Prizms (#'d to 99) and Blue Prizms (#'d to 49)!
Every card in Select has a Prizm Black one of one!

PRODUCT BREAKDOWN:
ROOKIES PRIZMS GOLD:
- Purple #'d to 99
- Blue #'d to 49
- Gold #'d to 10
- Green #'d to 5
- Black #'d to 1
ROOKIE JERSEY AUTOGRAPHS:
- Purple #'d to 99
- Blue #'d to 49
- Gold #'d to 10
- Green #'d to 5
- Black #'d to 1
TOP SELECTIONS JERSEYS AUTOGRAPHS:
- Purple #'d to 99
- Blue #'d to 49
- Gold #'d to 10
- Green #'d to 5
- Black #'d to 1
SKY HIGH:
- Purple - Max. - #'d to 99
- Blue - Max. - #'d to 49
- Gold - #'d to 10
- Green - #'d to 5
- Black - #'d to 1
WHITE HOT:
- Purple - Max. - #'d to 99
- Blue - Max. - #'d to 49
- Gold - #'d to 10
- Green - #'d to 5
- Black - #'d to 1
SELECT SWATCHES:
- Purple - Max. - #'d to 99
- Blue - Max. - #'d to 49
- Swatches - #'d to 25
- Gold - #'d to 10
- Green - #'d to 5
- Black - #'d to 1

14 Packs Per Box, 6 Cards Per Pack